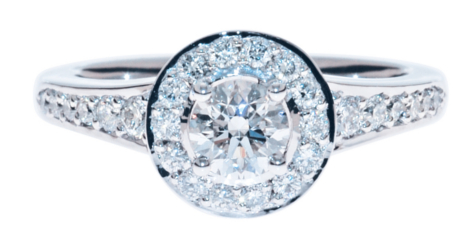 There are many difficult decisions to make when designing a unique piece of jewellery; but one of the most underestimated factors is the selection of precious metals…
Diamonds are a girl's best friend, brilliant emeralds, resplendent rubies and shining sapphires are all attention grabbing factors of a beautiful piece of gem-encrusted jewellery but it would not at all be possible without the intricate designs and sublime beauty of precious metals.
Gold, silver titanium and platinum are all classical choices to consider when designing a new piece of jewellery but compared to the dazzling brilliance of gemstones, choosing the precious metal to accompany your gemstones may not be as important.
At Stephen Dibb Jewellery we understand the importance every piece of precious material plays in creating and inspiring a uniquely crafted piece of jewellery. These precious metals are no exception and in their own right are awe inspiring and manipulative materials. Each precious metal is very different and will bring its own vibrant shine and uniqueness when accompanied by certain gemstones.
What is a precious metal?
A precious metal is a metal that is classified as 'rare' or is of high economic value; for example Gold often fluctuates in price depending on its availability. A rare metal is a metal that is becoming harder to find or is not often found naturally occurring. Precious metals such as gold, silver, titanium and platinum are all naturally occurring metals; their value will be determined by their availability, the demand and the industrial process for creation. Precious metals are formed when minerals dissolved into the earth's crust for thousands of years and are compressed until they become solid masses of material. This material can be melted down to create jewellery, coinage and other decorative items and even industrial parts.
How can a precious metal improve the value of my piece of jewellery?
A precious metal will be able to improve the value of your piece of jewellery in the following ways:
Long lasting and economically high standing…
There are many materials available out there that are more common that do not look as nice or last as long and are nowhere near as beautiful as precious metals. Not only this, if your piece of jewellery is created with a precious metal its value will continue to remain high throughout your life and beyond. Precious metals will always remain precious because it has taken thousands of years to create the metal. Precious metals are long lasting and instantly improve the economic value of your piece.
Precious metals are colour matching…
Precious metals come in all types of colours:
Gold… (metallic yellow) rose, pink, red, white, green, blue, purple and black.
Silver… (metallic grey) pink, pale, sand, chalice, metallic, blue and tarnished.
Platinum… silvery-grey
Titanium… grey, black and silver.
Did you know that precious metals are suitable for certain types of skin tones? Lighter skin tones tend to go with lighter colours such as white gold, pink and pale silver, platinum and grey titanium; while darker skin tones tend to look resplendent with mostly gold variations, titanium variations and darker silvers. However, when it comes to choosing your precious metal it's always your preference that will best suit. These precious metals can be crafted together to create a perfect duality to place your gemstone upon and because precious metals are earthly and monochrome in disposition, they generally blend well with all types of gemstones from diamonds and emeralds to sapphires and topaz.
At Stephen Dibb Jewellery we source the finest precious metals to create your uniquely crafted fine jewellery…
Without expertly crafted precious metal you'll only have a hand full of gemstones. At Stephen Dibb Jewellery we have some of the finest jewellers in Australia who are dedicated to ensuring your custom-made piece of fine jewellery will last you a life time. In doing so, they are trained to handle fine and precious metals in a way that is intricate, delicate and designed to last. Moulding metal is a delicate process but our team here at Stephen Dibb Jewellery will find the perfect way to use your chosen precious metal in order to make your final piece that extra bit extravagant.
Would you like to find out more about our precious metal practices? Give us a call today on 07 3847 9933 for Holland Park or 07 3821 6900 Cleveland.