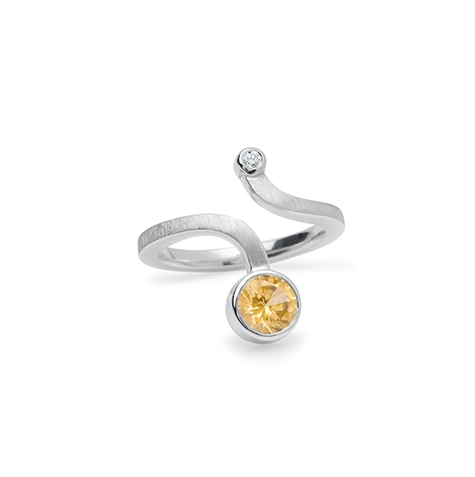 $ 525 AUD
160610CIT
Imagine a ballerina spinning on the spot. It's graceful, controlled and fluid. With a subtle twirl of brushed and polished metal, you become mesmerised by the movement captured in each of these pieces.
• Brushed/polished Sterling silver
• Citrine and 0.03ct H Si diamond
• Ring measures 2 to 21mm wide
As renown custom making jewellers creating in gold & platinum when a designer meets our quality, ethical & workmanship requirements we stock their products for the convenience of our customers. For more details of Daniel Bentley and his sterling silver jewellery see Daniel Bentley. 160610CIT-Pirouette_ring_CIT
For more information on our custom making services please go to Custom Made & Designed Jewellery. For more information on our jewellery remodelling services please go to Jewellery Remodelling & Recycling. For details of our unique guarantees please go to Guarantees. To see more of our custom made jewellery please go to Collections.