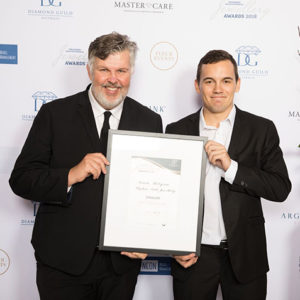 We are proud to be Queensland's most awarded jeweller but what does it mean to you as a customer?
It means that you will be dealing with the best jeweller in Brisbane & Queensland, a jeweller who is an industry leader who values excellence, innovation, customer service & training as well as their team and community.
Beyond being the most awarded jeweller in Queensland, we are also the only Brisbane member of the invitation-only Diamond Guild of Australia.
Here is the list of our awards.
Jewellery Design Awards
TAFE Queensland  Apprentice Jeweller of the Year – Winner 2021
TAFE Queensland 2021  Employer of Apprentice Jeweller of the Year
TAFE Queensland   Apprentice Jeweller of the Year – Best Technical Aspect – Winner 2021
TAFE Queensland   Apprentice Jeweller of the Year People's Choice for jewellery made – Winner 2021
Diamond Guild Jewellery Design Awards – Emerging Talent – Finalist 2018 – Announcement of the finalist.
Diamond Guild Awards – Emerging Talent – Finalist 2015
Diamond Guild Awards – Emerging Talent – Winner 2013.  The Redland City Bulletin covered the win – scroll down to November.
Diamond Guild Awards – Fancy Cut – Finalist 2013
TAFE Queensland Jewellery Apprentice Design Award Winner of People's Choice Section 2014
TAFE Queensland Jewellery Apprentice Design Award Winner 2008
TAFE Queensland Jewellery Apprentice Design Award Winner 2004
TAFE Queensland Jewellery Apprentice Design Award Winner 2003
JAA Australian Jewellery Awards –  Winner 2000
JAA Australian Jewellery Awards – Finalist 2000
JAA Australian Jewellery Awards – Winner Finalist 1998
JAA Australian Jewellery Awards – Winner Finalist 1994
De Beers' Diamond Awards – Finalist 1991
JAA Australian Jewellery Awards – Winner 1982
JAA Australian Jewellery Awards – 3rd Year Apprentice Design & Craftsmenship – Winner 1981
Other Awards