Custom Made & Designed Jewellery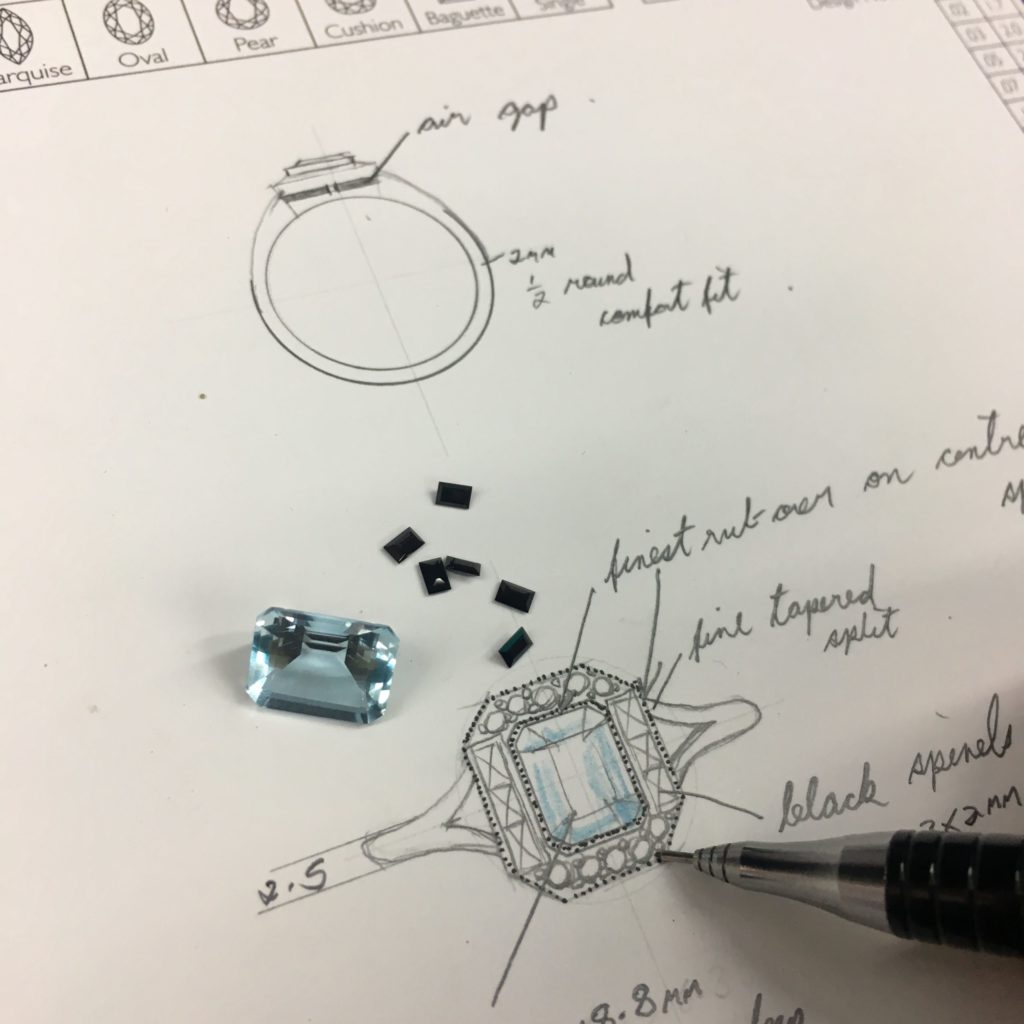 We live in a mass produced world, where most of us wear off the rack clothes and never have anything that is uniquely ours, something that uniquely represents us and who we are. The craftsman at Stephen Dibb Jewellery provide a unique jewellery experience creating custom jewellery as unique as you are.
As Brisbane's leading custom making jeweller we have a team of highly-qualified jewellers & stone setters.  We hire the best jewellers and then we train them to our high standard so that our team are able to create any design you have in mind. 
We are delighted for you to bring in your ideas or if you want to start your design adventure with a completely open mind.  We gently ask lots of questions and then we listen, we hear and we translate what you telling us into your personalised design. 
You will fully understand what it will look like because of the detailed drawings and notes as well as our easy to understand explanations.  
Bring your own diamonds & gemstones or have us source them for you.  Find out the advantages of having us do this for you.
We are skilled designers who can show you the subtleties that make a piece of jewellery into art including perfect proportions, superior finish, flow, negative space, flair, engraving, profile, lines, movement, focal point and quality of diamonds & gem stones as well as variations in materials, finish & setting.  Our design capabilities also mean that we can advise you on what quality of stones and when to use them for the most impact saving you money and providing value.  To find out about our design consultations go to What is a design appointment like?.
It usually takes us about 4-6 weeks to make your custom made jewellery. Should you require it quicker than that please discuss it with us.  You are welcome to visit during the making process or call for updates.  
To book an appointment, you can phone, text or email or simply Book an appointment On-line at one of our 3 Stores that is most convenient for you.  We have stores at Brisbane City, Holland Park & Cleveland.
When designing for you we take into account your:
hand & finger shape & size
skin-colour
lifestyle
existing jewellery
personal style
All remodels & custom made jewellery include:
All wedding rings & engagement rings include:
Free inscription
Free clean & polish of all wedding jewellery for all members of the wedding party before the wedding. Please make an appointment to avoid delays.
For more information see Guarantees, Meet Stephen Dibb, Awards, Frequently Asked Questions or simply Send Us A Message.
Our other services include Jewellery Repair & Restoration & Jewellery Remodelling & Recycling, Jewellery Valuations, Insurance, 1 Year Lay-by, Gift Certificates & Duty Free Jewellery.

Go to Collections to see all the exquisite design that we have already made for our customers that have been taken home and loved including:
We make jewellery in the following metals:
Platinum
Rose Gold
Yellow Gold
Premium-Grade White Gold
Combinations for all of the above.
We can access all shapes of diamonds including:
Round Brilliant Cut 
Princess Cut
Oval
Pear
Marquise
Baguette
Cushion Cut
Single Cut
Emerald Cut
Radiant Cut
Heart Shape
Trilliant Cut
We can access coloured diamonds including:
Pink
Yellow
Blue
Black
Cognac
Champagne
We can access the following colour gem stones including:
Sapphires including blue, green, pink, purple, apricot, orange, party, yellow both Australian, Ceylonese & African.
Emeralds
Rubies
Tanzanite
Tourmaline including pink, green, blue & water melon.
Aquamarine
Morganite
Amethyst
Spinel
Topaz
Garnet
Opal
South Sea Pearls
Fresh Water Pearls
We are experts in all of the following stone setting types:
Pavé
Grain Set
Claw Set
Tiger Claw Set
V-claw Set
Rub-over Setting (sometimes know as Bezel)
Rub-in Setting