When do I need a Fitted Wedding Ring?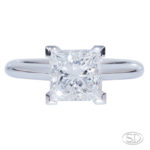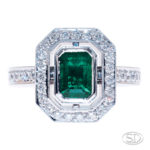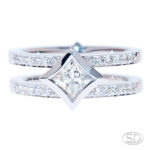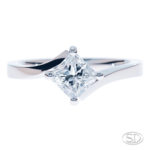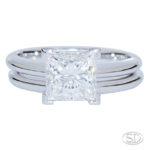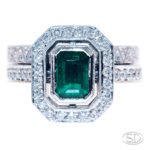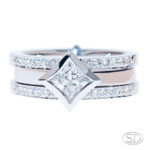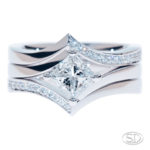 You need a fitted wedding ring when a flat-sided wedding ring does not sit flat beside your engagement ring. 
It will need to be custom made so that it doesn't wear down your engagement ring. 
It is important to get this right because if the wedding ring wears away the setting that holds your diamond then you can loose your precious diamond. 
It isn't difficult just choose a experienced master jeweller who can design and make a fitted wedding ring. They will be able to draw a number of options.
You will need to leave your engagement ring with the jeweller briefly so they can make your wedding ring fit your engagement ring perfectly.   You will also need to allow about 4-6 weeks for this process.  For more wedding ring advice please go to Wedding Ring Advice.  Please scroll down for lots of examples of fitted wedding rings.
For more wedding ring ideas see just some we've already made at Wedding Rings.  For gent's wedding ring ideas go to Men's Wedding Rings. For engagement ring ideas go to Engagement Rings.  For more information on Stephen Dibb Jewellery go to Meet Stephen Dibb & FAQ.