Jewellery Remodelling & Recycling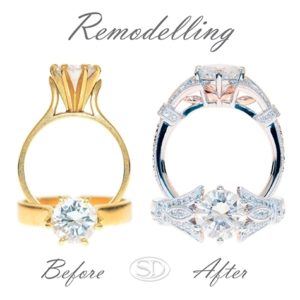 Have you got jewellery that just isn't you anymore? Jewellery that isn't comfortable or you never really liked?  Then bring it all in for a free, no obligation consultation!  It can't hurt to ask and you will be surprised at how enjoyable the process is and how reasonable the price is as they start from $1,350.   Why not get something you love out of the jewellery that you no longer wear or enjoy? 
Our most popular jewellery remodelling options include:
Through our metal swap or credit service customers who have yellow gold jewelery can get all white or rose gold.
 Consolidating a number of pieces into one amazing piece for example a bangle.
 A large piece of jewelery is made into a number of lovely rings to be shared by family members.
A smaller centre diamond from an old engagement
ring can be matched and made into earrings while the engagement ring is upgraded.
A remaining earring from a set can be made into a pendant, keeping the sentiment and making it wearable again.
You can have your jewellery remodelled into Bangles & Bracelets, Earrings, Pendants, Engagement Rings, Wedding Rings, Eternity Rings, Men's Wedding Rings, Dress Rings & Coloured Stone Rings.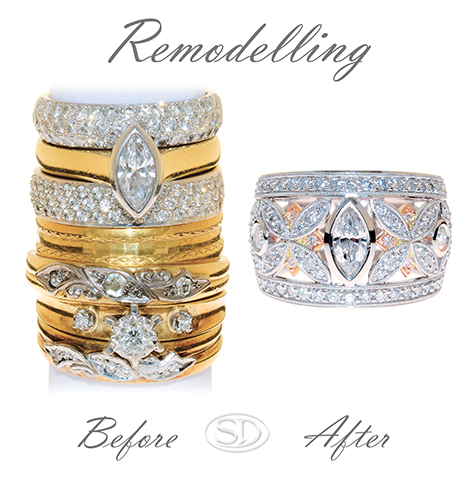 When it comes to jewellery remodelling with Stephen Dibb Jewellery, did you know…
Over half of the jewellery pictured on this site are remodels.  Have a look at Collections.
It is incredible how much can be re-used in jewellery remodeling, for example, worn down stones can be re-polished so they are perfect again and broken gem stones can be re-cut.
There are endless options for jewellery remodeling so come in for a no obligation chat.
It usually takes about 4-6 weeks and prices start from $1,350 if you have provided all the metal and gem stones.
We are delighted if you bring in your ideas or want to start your design adventure from the basics.
We listen, we hear and we translate what you tell us into your original remodelled design.
You will fully understand what it will look like because of there will be detailed drawings, notes and explanation for your remodel.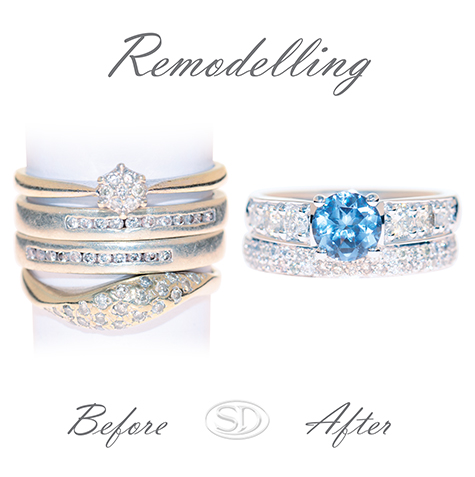 As remodelling has always been a large part of what we do you will recieve the benefit of our 30 years experience providing options and straight forward advice for our customers.
We are able to advise you on what is re-useable in your remodel, what is worth re-using in the remodel & how to make the most of what you have.
As skilled designers we can explain and show you the subtleties that make a piece of jewellery into art including perfect proportions, superior finish, flow, negative space, flair, engraving, profile, lines, movement, focal point, quality of diamonds & gem stones as well as variations in material, finish & setting.
Our design capabilities also mean that we can advise you on what quality of stones and when to use them for the most impact saving you money and providing value.
We take into account your hand & finger shape & size, skin-colour, lifestyle, existing jewellery & personal style when we do jewellery remodelling so we that it will be uniquely yours.
If you have a wide variety of diamonds and gem stones you will need designers like ours who can balance asymmetrical designs in jewellery remodelling.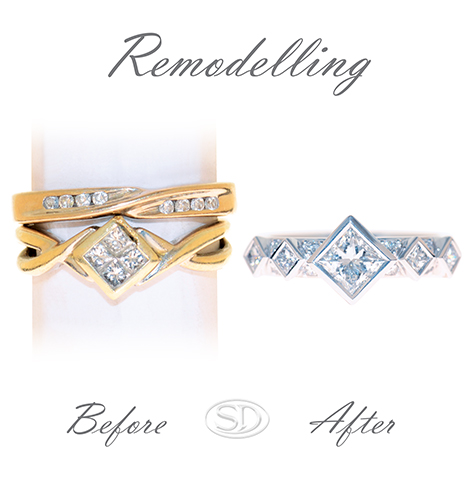 All remodels & custom made jewellery include:
To book an appointment, you can phone, text or email or simply Book an appointment On-line at one of our 3 Stores that is most convenient for you.  We have stores at Brisbane City, Holland Park & Cleveland.
Learn more at Custom Design & Design Appointment.
For more information see Guarantees, Meet Stephen Dibb, Awards, Frequently Asked Questions or simply Send Us A Message.
Go to Collections to see all the exquisite design that we have already made for our customers that have been taken home and loved including:
Our other services include Jewellery Repair & Restoration, Jewellery Valuations, Insurance, 1 Year Lay-by, Gift Certificates & Duty Free Jewellery.