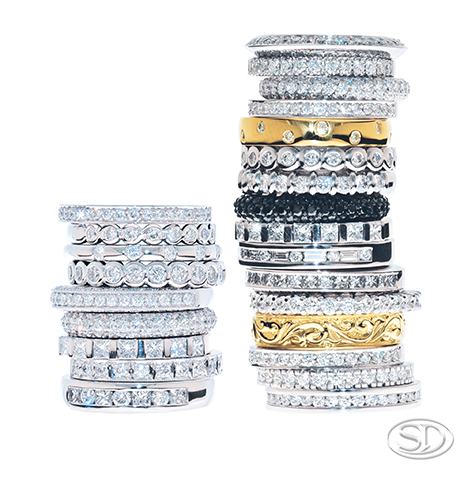 Wedding rings are a symbol of eternal love and commitment.  They are traditionally worn on the left ring-finger closest to your heart with the engagement ring worn on the same finger.  They are often called wedders, for short, by jewellers.  
This is a ring that you will wear for the rest of your life so take your time and get what you really want.  Here are some ideas to reflect upon.  
Should we design the engagement ring and wedding ring at the same time?  It is a great idea so that you will love the end result not just the engagement ring on its own.
When do I need a fitted wedding ring?  If a flat-sided ring will sit flat beside your engagement ring then you will not need a fitted wedding ring however if it doesn't then you will as it will wearing down and damaging your engagement ring, worse case you could loose your diamond? To make a fitted wedding ring the jeweller will need to keep your engagement ring briefly to make sure that the wedding ring fits the engagement ring perfectly.
Does it need to matching my engagement ring?  Traditionally the wedding ring and engagement ring match including metal colour and cartage (type); diamond clarity, colour & cartage (size); diamond setting style, band width and ring profile.  For a diamond set wedding ring, the diamonds need to span the same width as the engagement ring. Go to a jeweller that knows all the design rules and tips so that they can design and make a wedding ring that perfectly complements your engagement ring.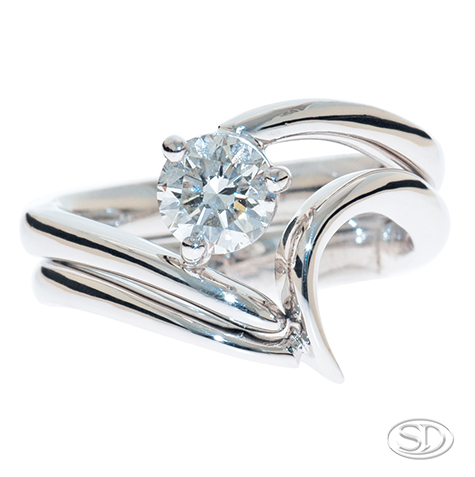 Matching:

However some brides want a wedding ring design that improves or extends the design of their engagement ring and takes it to new places.  Other brides even want an avant-garde wedding rings that pushes the design boundaries.  Sadly some brides aren't completely happy with some design aspects of their engagement ring.   At Stephen Dibb Jewellery we can design for all these brides, we can use our experience and creativity to bend the rules.  Yes over the past 30 years we've learnt a bit and we'd love to share it with you.  Go to a jeweller that knows how to break the rules with style!
For example:
a different but complementary diamond setting style
different metal colour to create contrast
different colour diamonds or gemstones to create contrast.
improve the comfort of your engagement ring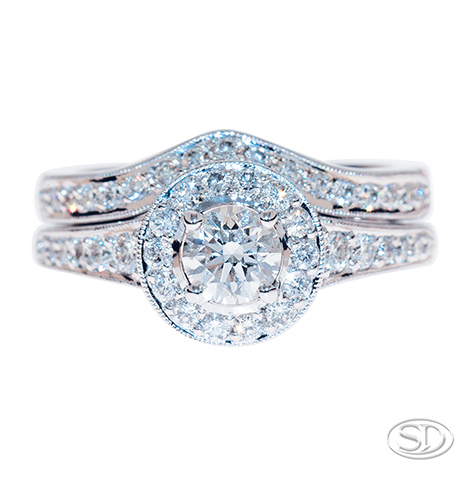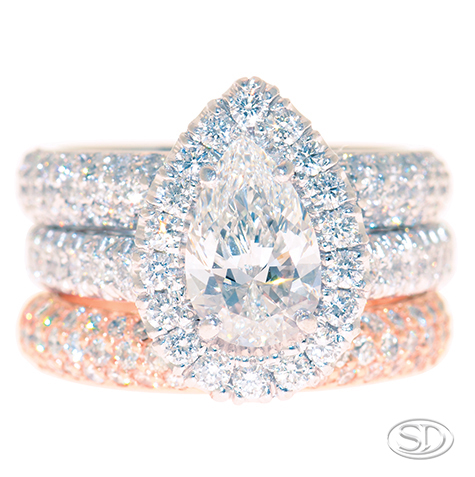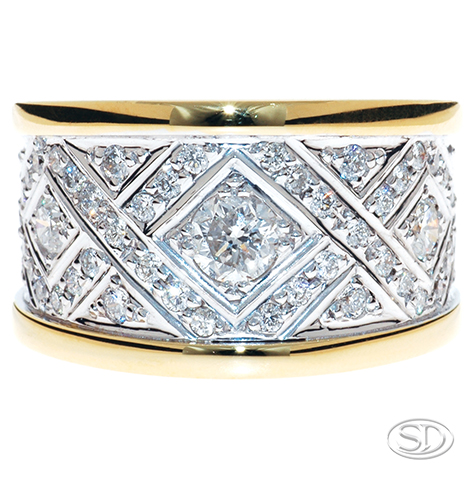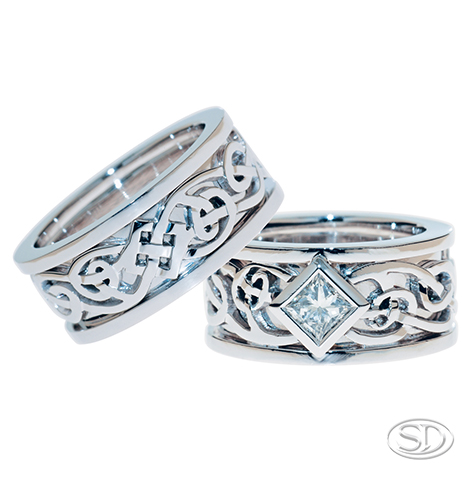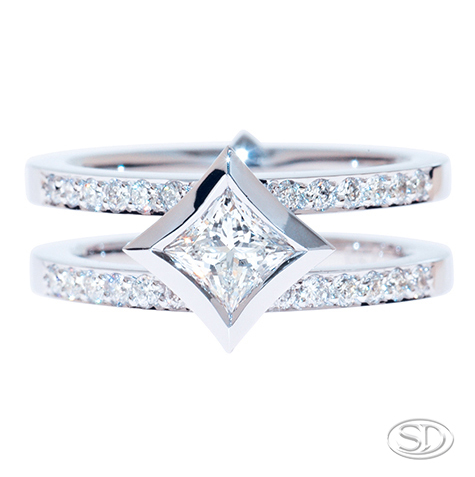 Non-traditional Alternatives? Some brides choose to have a combination wedding & engagement ring.  One Stephen Dibb Jewellery client had an enchanting custom-made bracelet created using a variety of family stones for her engagement and a wedding ring to match it for her wedding.  Another had an engagement diamond tennis-bracelet and a wedding ring.
Does my wedding ring need to match my partner's ring?  It is completely up to you.  Many couples prefer them to be complementary but not the same or even completely different?
Should I incorporate the option of an eternity ring in my design?  Again it is up to you.  If you think you want an eternity ring that is worn on the same finger as your engagement & wedding ring then discuss it with your designer.  One option is just adding additional diamonds to your wedding ring for your eternity celebration.  We are seeing more and more couples getting diamond earrings, a diamond pendant or right hand dress ring to celebrate their eternity.  When you celebrate your eternity is completely up to you.  For some couples it is a first anniversary and another's it is their first child or 10th anniversary.
What are split wedding rings & why choose them? Split wedding rings are where you have two identical rings either side of your engagement ring.  They are great if you like symmetry or it is more complementary to your existing engagement ring.  Some couples lay-by the second split wedding ring and use it to celebrate their first wedding anniversary as their eternity ring.
What else should I consider? 
Your style – Online is a great place to start looking at options like plain, vintage, art deco, art nouveau, classic, elegant, retro, fine or solid, stone-set or plain.  Bring your ideas to your design appointment!
Your Lifestyle – Your lifestyle may change your choices of metal, setting and stones.  For example, do you need a robust ring that has the stone set low and that doesn't scratch easily?
Metals – Options include platinum, white gold, yellow gold, rose gold, titanium, 18ct gold, 9ct gold, two tone, tri-tone (rose, yellow & white) all with different properties and costs that make some more suitable than others.
Metal finishes – Options include brushed, engraved, matte, reticulated & polished.
Stones – Options include white diamonds, pink diamonds, black diamonds, yellow diamond, blue diamonds, sapphires, rubies.
Stone Setting Type – What setting? Options include pavé, grain set, claw set, tiger claw set, V-claw set, rub-over setting (sometimes know as bezel) & rub-in setting.
Should we get inscriptions? The custom of inscribing romantic poetry onto wedding rings began in the courts of medieval Europe but it is completely up to you. At Stephen Dibb Jewellery we provide free personalized inscriptions. You could have your wedding date inscribed inside the bands to help your new husband to remember the anniversary thus strengthening your marriage. Here are some Wedding Ring Inscription Ideas
What should be our budget be? Set a realistic budget together and remember that a good designer uses their skills to maximise the value you get. As a guide a high quality 18ct gold plain wedding rings should start at $700 and high quality diamond set 18ct wedding rings should start at $1,800.  By high quality we mean:
a solid band that is comfort fit (convex inside to make it truly comfortable)
diamonds of the right quantity and quality to look generous
a written life-time workmanship guarantee & a written satisfaction guarantee that you will love what is made for you
many free inclusions including free first year of insurance, free independent valuation, free inscriptions, a lifetime free annual clean, check & polish to keep your rings looking their best.
How much time should I allow? For custom made rings allow 4-6 weeks.
What is the advantages & disadvantages of a custom-made wedding ring? It means that you have considerably more choices so your rings can be as unique as your beautiful relationship.  For example one of our customers loves bows so she has a rose gold bow incorporated into her engagement ring.  It also means that you are not just taking "what is in stock".  It also means that they can use your existing metal and stones from other jewellery. Find out more about our custom making service at Custom Made & Designed Jewellery.  The disadvantage is that it will take 4-6 weeks. 
What is a design appointment like?  Once you have some ideas about your preferences make a design appointment to discuss the pros & cons of each with a trained jewellery designer. Make sure that it is a no obligation appointment and that there is no charge.  To find out what a design appointment will be like go to What To Expect.
What guarantees should I expect?  Make sure you choose a wedding ring with a lifetime workmanship guarantee.  For a custom made wedding ring make sure that your satisfaction is guaranteed.  Check out the details of our guarantees at Guarantees.  
Can I have my wedding ring made with my existing stones and jewellery?  – You can make use of your existing stones and jewellery.  To find out more go to Jewellery Remodelling & Recycling.
What should I avoid?
Avoid jewellers who want to limit your options to what they can do or have in-stock.  
High pressure sales techniques.  If you feel comfortable then try another jeweller. 
Designers who aren't will to discuss all your ideas and the pros & cons of each.
Poor quality, faulty and unrepairable engagement & wedding rings.  Here are some issues to be avoided as they cause a great deal of heartache.
The ring is hollowed out so that the minimum of metal is used. This means that the ring will need repair earlier or even be unrepairable.  It can also cause dermatitis from moisture being tramped in the pockets created by the hollowing out.
Poor quality metal and cutting corners in the manufacture which will lead to a multitude of faults.
White gold that is alloyed with nickel because it is cheaper than platinum or palladium. This means that it will be less bright and may cause allergic reactions.
Poor stone setting so the diamonds & gem stones fall out.
Poor quality diamonds & gem stones. They may be heavily included so they may fracture and fall out. They might have good colour & clarity but don't have good proportions & polish, they may have too much fluorescence, all of which can leave a diamond lacking in lustre.
Fracture-filled diamonds that could implode when repaired under heat.
Overseas imports with no guarantee on worker's conditions, health & safety.
Our tips
A properly fitted wedding ring that doesn't damage the engagement over time is essential.
Make sure that it is a no obligation appointment and that there is no charges for designs. 
Invest in quality as then the rings can be restored and repaired over time and if you decide to remodel in the future the quality metal, diamonds and gemstones are recyclable. 
That the engagement ring and wedding ring complement each other and look like they are meant to be together. 
Go with a jeweller who backs their work with a workmanship & satisfaction guarantees in writing.  Ask "what if the diamond falls out?  And "what if she doesn't like it?". 
Comfort fitted rings (inside of the band is convex) so you enjoy wearing your ring.
Get what you really want so you are proud to wear it for the rest of your life so you can look down every day and think "yeah I got that right!".
Have high expectations as getting your engagement ring and wedding ring should be an interesting, intimate and exciting experience.
We hope this information has been helpful!  For more wedding ring ideas see just some we've already made at Wedding Rings.