Jewellery Repair & Restoration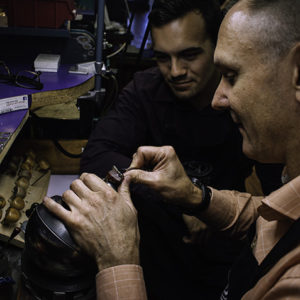 Have you got jewellery that you can't wear or worry about wearing because it needs repair? Then come in for an easy & no obligation quote.  We'd be delighted to repair & restore your lovely jewellery so you can fully enjoy it again.
Our team are proudly Master Jewellers who specialise in jewellery repair and restoration of your existing jewellery.
We can repair & restore the widest variety of jewellery to the highest standard as we are passionate about training and keeping up with the latest technology, including lasers.  We employ the best jewellers in Brisbane and train them to our own high standards.
You will be told about all the options available to you and be given straight-forward advice as our team has over 100 years of jewellery repair experience.
We will always quote you a fixed price before we get your go ahead for a repair. There will be no add-ons after the fact. This is our policy for Jewellery Remodelling & Recycling & Custom Made & Designed Jewellery services as well.  All jewellery repairs include cleaning, emerying, polishing and rhodium-platting.
For your peace-of-mind, we are fully insured, take photographs of your jewellery and have a computerised job tracking systems.
 Repairs include: